Let God Worry?
Martin Luther wrote a lot of short sayings about faith and being a Christian. A few of them include:
"Peace if possible, truth at all costs."
"If you are not allowed to laugh in heaven, I don't want to go there."
"Everything that is done in the world is done by hope."
"Be thou comforted, little dog. Thou too in Resurrection shall have a little golden tail."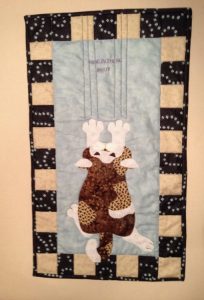 I recently came across one of his sayings that I really like: "Pray, and let God worry." It's a nice quote – a simple saying with a nice sentiment. However, if we stop and really think about the meaning of it – and take it seriously – to pray and let God do the worrying – I don't know about you, but for me, that can actually be quite a challenge!
A few years ago, my son moved back to Indiana after living/working in Japan for four years. He and his fiancee', who is Japanese, talked before he left Japan, and decided to delay getting married for four years while he went back to college to get a second bachelor's degree in hopes of getting a better job. My son asked me to make his fiancee' a wall hanging of some sort that said "Hang in there!" – so I quilted a picture of a cat sliding down a wall with a caption to "Hang in there!"
The picture was a cute reminder that the waiting would eventually come to an end, and they would be able to marry (which they did this winter!). As I think about that cute cat picture, all of the effort to keep from giving up and falling was on the cat herself.
Worry is sort of like that. It can kind of sneak up on us. At first, we pray and try to give it to God, but it's easy to hang onto our worries and frets because it gives us the illusion – false illusion – that we are in control of things. It can begin to feel like it really is all on our shoulders, and we suddenly realize – when we are feeling a little like the cat on my wall hanging – that we could use some help.
I don't know about you, but the past couple of weeks have been fairly stressful with all of the news about the Coronavirus spreading. The news stations are talking about it all the time, which adds to our anxiety – and worrying can take a lot of our time and energy.
Several years ago, a Lutheran pastor – Kae Evensen – wrote an article about praying and learning to let God do the worrying. She wrote:
"God is the ultimate worrier, and God is good at it. Just a quick skim of the Bible will tell you all about it. In Genesis 3, God is walking around the garden looking for Adam and Eve when they're hiding … and think how God fusses over the Israelites and their Egyptian situation, or remember the prophets and how they gushed endlessly about God's concern for justice and also for love."
Evensen says that Jesus was a worrier, too. Remember? Jesus worries – not only about "the least of these", but also about the whole city of Jerusalem; and before his death, Jesus is concerned about his disciples – his friends – and prays that the "Holy Spirit take over as Comforter to those who follow him".
I have never thought about God – or Jesus – as worriers, but I find the idea intriguing, and after thinking about it, I would agree. I think God – and also Jesus – were/are worriers – because they love us. Perhaps (as Kae Evensen wrote), God's greatest joy is to take on our worries and concerns, and that "God's answer does not come as we might imagine, but is revealed again and again to us in the cross … And that Christ worries so we don't have to."
Pray and let God worry. Of course, we will still worry from time to time as different situations in our lives arise. I think it's an ongoing process – to keep going back to God – to pray and let God do the worrying. We can "sit down, drop our heavy sacks and simply remember: it's all been done" – and that's the Good News of the Gospel – it's not all up to us! Jesus worries so we don't have to!
In this season of Lent – when we are preparing for Easter – especially this year in light of all we are facing together as humankind – join me in seeking to pray and to let God do the worrying, and remember – you are loved.
Blessings,
Cathy
"Do not be anxious about anything, but in every situation, by prayer and petition, with thanksgiving, present your requests to God. And the peace of God, which transcends all understanding, will guard your hearts and your minds in Christ Jesus." – Philippians 4:6-7